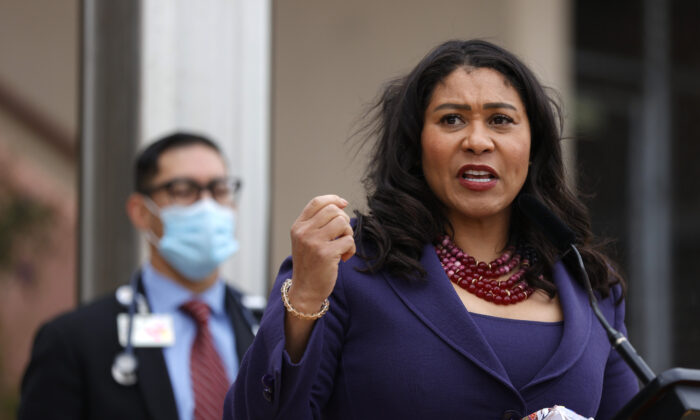 San Francisco Mayor London Breed speaks during a news conference outside of Zuckerberg San Francisco General Hospital in San Francisco, Calif., on March 17, 2021. (Justin Sullivan/Getty Images)NORTHERN CALIFORNIA
Mayor's Spin on Crime Is Confusing, Contradictory, and Misleading
Published Epoch Times July 15, 2021.
Having worked as an administrator with the city during six different mayoral administrations, I can attest to the fact that each and every mayor used such an occasion to present statistics in a manner which best reflected the crime policies they were supporting.
These press conferences were usually conducted with an agreeing police chief, as this one was, but on occasion they appeared alone so as to deflect partial blame to other city departments.
In San Francisco, where the chief of police is appointed by the mayor, it makes for a stronger "show" to have both appear together.
As many of you know, statistics can be used in many different ways to justify particular and even opposing points of view. It's how they are presented. Usually the bottom line tells us what we need to know. I am not going to bore you with quoting the statistics the mayor and chief presented, but rather comment on how they presented them.
The statistics that were presented July 12 told us, in no uncertain terms, that violent crime in most categories was dramatically on the rise at this point compared to prior years. Homicides, gun violence, burglaries, aggravated assault, car thefts and break-ins have all increased at an alarming rate over prior years.
In some instances during the presentation, only selected years were used as comparative benchmarks, and at other times, half-year stats were compared to whole year stats.
In the category of homicides, the mayor talked about the wonderful success ratio of arrests made, but not the increase in the overall number of murders being the highest it's been in decades. I am happy that our police department is doing a good job in their investigations and making arrests, but I'm not happy that the rate or numbers of murders has increased so much.
The discussion on gun violence, another category of dramatic increase, was artfully minimized by the rhetoric on "ghost guns." Ghost guns are unregistered, unlicensed, or illegally made 3D guns. It is wonderful that we have the ability to identify the type of weapon used by more and more criminals, but it tells me nothing about what we are doing to lesson such crime.
Burglaries and home invasions are way up. This was accompanied by a rather lengthy explanation of the fact that more people have been at home during the last year because of COVID-19. One would think that burglaries and home invasions would decrease because of that fact.
Auto theft and break-ins continue their upward spike. The mayor went on and on about how these types of crimes were the work of a small handful of groups who are well-known to police. Are these people being arrested, and if so, are they being prosecuted? Regardless of how well known they are, they are still up to their tricks.
Rape and sexual assault cases are down, I am happy to report. The mayor attributed this to the fact that more people, especially women, stayed at home during the past six months because of the pandemic and lockdowns.
Larceny and petty theft were reported as down compared to the prior three years.
It's no wonder, because both types of crime have been reclassified as almost insignificant by a district attorney who refuses to prosecute almost any type of theft less than $950, if no weapon or violence is involved. The cops reason that they should not waste their time pursuing such cases if they are just going to be dismissed by the district attorney. I didn't hear the mayor or chief talk about the lack of prosecution at all.
All of the above was neatly packaged into a very boring and hard to follow, self-congratulating press conference as mentioned above. Much was said about all of the wonderful new social programs that have been instituted to help analyze and fight crime as the result of the mayor defunding the police and sheriff departments to the tune of $65 million this year and another $65 million next year.
The only problem here is that the statistics she and the chief are quoting do not support her statement that the programs are "wonderful or effective" as crime across the board is greatly increasing.
There is a great deal of confusion as to actually how much money has been deducted from the police department, as she promised during her July 2020 "Dream Keeper Initiative" to defund the police.
It's clear she has found the money somehow to fund these alternatives to law-enforcement social programs, costing at least $65 million so far, and has taken enough from the police department to cause a shortage of 400 police officers available to patrol our streets. This is a reduction of almost 25 percent of our active police force.
The mayor then went onto embarrassing lengths about the importance of "more police on the beat." She even reported that crime in the tenderloin has gone down because of her insistence that more police be present in that area. Why doesn't she apply the same principle to the rest of the city instead of being the sole cause why our police department staffing is down 25 percent?
I applaud Chief Bill Scott for being the good soldier that he is. I believe that he is doing his best under very trying and adverse circumstances. I think that he is caught between a politician who really believes her own spin, and a district attorney who is more like a public defender.
Let's hope that someday, saner heads will prevail and San Franciscans will start electing people who are genuinely concerned with the welfare of the people they represent as opposed to politics, and that they have the competence to handle the job.
Tony Hall is a former supervisor in the city and county of San Francisco.